This glorious little gem is courtesy of
Steph
from
Watching Airplanes
. Funny, ridiculous, or strange Facebook statuses you see. Please join in!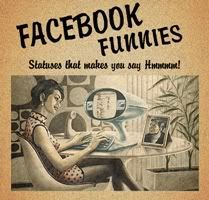 Amen sister!
Um... okay?
If they are eliminating freaking, what does that say about me and my Bible swear words?
Sometimes I feel like that too. When I say sometimes, I mean most days.
Will do El Capitan
Especially since you posted that thought on Facebook.
"Be the kind of adult you want your kids to turn out to
be." I made up the quote while watching Real Housewives of Beverly
I can't say much to make this one any better. Pretty funny.