Its been a long time since I've linked up.
Head on over to
Nicole's page
to become a part of the Thursday Five fun!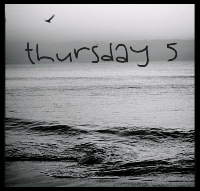 This week's words are
This week I have begun working out after a long 6 months of being told I couldn't. I still didn't get the go ahead but I'm doing it anyway. The idea of the flabbyfatty coming off soon makes me
Happy

.
Mr. Superman called me earlier this week and it was a total shock and surprise. Immediately I was so giddy and happy and definitely
Jubilant
.
In the wake of everything I have had going on and happening in the last year, I have lost the remainder of 'friends' I thought I had including the once raved about Brighteyes (Bestie). Despite my sadness and frustration over this, I have realized many things and met an absolutely fabulous person who is seriously the best thing since sliced bread. Decorating, designing, thrifting, cutting and coloring hair, gorgeous, she does it all. Not to mention she has four kids I get to cuddle and love on on a near daily basis. Having her as a friend, a good one at that, makes me
Grateful

.
Talking to my mama and thinking about her forcing me to meet her for lunch on my BDAY on Saturday makes me feel very, very
Loved.
Waking up with strep I knew was bound to hit me sucked HARD but realizing I already had the antibiotics and therefore skipped out of a doctor's visit made me
Thankful.