Early this morning, surrounded by her mama and daddy, Baby Daphne Dawn Reading returned to Heaven to be with the loving God who put her here on Earth.
When Danielle told me about her passing, she said, "She's just so beautiful and peaceful." I know she is too. She has the kind of peace that only comes when we are again back in the arms of Jesus.
The number of lives she entered and hearts she touched can't be counted.
The strength and will of that baby girl is to be admired.
Against all odds, Daphne made it to 19 days old (today).
The prayers of thousands proved that when hearts full of hope and faith come together before God, He shows us His
infinite love
through miracles.
No one can say why God chooses to do things the way He does them.
That's why He is God.
He can see
so much more than we can.
Hearts can question but that only makes it more difficult for our hearts to
let Him in
.
I know that for me, the past two weeks that I have allowed myself to just
SEE the miracle
of Daphne's life, I have been able to
FEEL God.
About 10 days ago, I was feeling all consumed by sadness. I kept thinking, "Poor Danielle and Drew." I asked Mr. Superman how such innocent, perfect, beautiful little souls like Daphne could be given bodies that fail. Why? What he said has been stuck in my head since.
"It's not our job to ask, "Why?". It's our job to trust. You can feel sad because it is sad but don't feel sad for Daphne. She is the lucky one. She gets to be surrounded by love and prayers but when the time comes, she will not have to stay in such a terrible place. Daphne won't ever have to grow up watching this world and witnessing the awful things people do. She is so lucky to get back to Heaven where whether we realize it or not, we all wish we could be more than anything."
He's a smart man that husband of mine and even though its hard to let that thought, that
TRUTH
, stay at the forefront of my mind, it
is
the
TRUTH
.
Daphne's Miracle
God sent a angel to the Earth...The sweetest angel too
And for such a tiny little thing, she had so much to do.
She knew she did not have much time upon this Earth to stay,
She did not waste a single second; she got started right away.
Her eyes were bright and sparkly, she took in every turn.
She did not miss a single thing, because Daphne came to learn!
God sent her here to touch the hearts of those He could not reach,
She taught them courage, strength and faith, because Daphne came to teach.
Her tiny little body was so full of God above,
You felt it when you held her, because Daphne came to love.
In 19 days she managed what many never will.
When she went home to Jesus, her purpose was fulfilled.
She learned and taught, loved and played, she taught her lessons well.
I know God is so proud of her. She's now truly home to dwell.
But when you miss her OH-SO-MUCH, you can almost hear Him say,
Please understand, her work was done...
Daphne did not come to stay.
If you have cards, letters, or anything you wish to send to the family, I can be contacted at
rachelleorgan @ gmail (dot) com
At this time, the family is not in need of monetary donations and would like to extend their immense gratitude for everyone that has shared their story and continues to pray for them.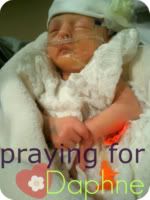 I will continue to have this badge on my blog. Even though Daphne has her wings now, her life and story can continue to change the world and touch countless hearts. Please join me in continuing to spread Daphne's miracle.