I won't say too much because most people know my political stance but this is undoubtedly and undeniably momentous for us as a nation. We must not lower our guards and please please PLEASE stick to OPSEC and continue to pray for our troops.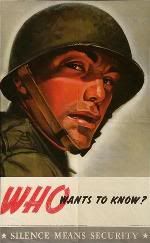 A lot of people are speculating and noting the obvious that there will more than likely be a power struggle to take Osama's place. I think its safe to say that's going to happen and yes we have to proceed with caution BUT freaking out and going into a catatonic state of fear and and unrest isn't going to do you or anybody any good. I've already seen rumors and people posting on Facebook about air strikes to bases and such. Just stop. You're not helping. All military outposts are currently sitting at Fpcon Bravo which for those who don't know means extremely heightened security and is specifically aimed at high risk of terrorist threat.
We are a strong and brave nation. That has been proved time and again. We don't falter, we don't hesitate, and as shown in these recent events, we do not FAIL.
Some quotes, statements and things I have seen posted by friends all over the place.
"
Earlier this evening, President Obama called to inform me that American forces killed Osama bin Laden, the leader of the al Qaeda network that attacked America on September 11, 2001. I congratulated him and the men and women of our military and intelligence communities who devoted their lives to this mission. They have our everlasting gratitude. This momentous achievement marks a victory for America, for people who seek peace around the world, and for all those who lost loved ones on September 11, 2001. The fight against terror goes on, but tonight America has sent an unmistakable message: No matter how long it takes, justice will be done."

Statement from Mitt Romney:
"This is a great victory for lovers of freedom and justice everywhere. Congratulations to our intelligence community, our military and the president. My thoughts are with the families of Osama bin Laden's many thousands of victims, and the brave servicemen and women who have laid down their lives in pursuit of this murderous terrorist."

Former State Department spokesman P.J. Crowley said on Twitter:
"#BinLaden's death does not eliminate the threat from #alQaeda, but it is hard to see anyone playing the same organizational role he did."

Justice will be served and the battle will rage. This big dog will fight when you rattle his cage. You'll be sorry that you messed with the US of A 'Cause we'll put a boot in your ass, it's the American way."