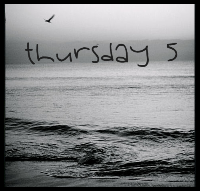 Say hello to the brand new version of Thursday Five! When
Mannland 5
announced that she would no longer be hosting Thursday Five it I was so sad! She did give her blessing for someone else to pick it up though and I am so stoked because the fabulous
Mrs. Gambizzle
is continuing it. All you have to do is list five things that have made you
Happy
Joyful
Appreciative
Giggly
or
Excited
Make sure you go back to her page and link up using the linky tool at the bottom of the post.
1) I have gotten some fabulous thrift store finds, clearance finds, and wonderful crafting and decorating done this week with my fantastic SIL K. Pictures to come soon.
2) My horrible sunburn healed incredibly fast and is already peeling. I do look like a leper but it means the base pool and Jacksonville won't be painful!
3) Mr. Superman is home all day and night today. 'Nuff said.
4) My BFF E. arrived this morning. I was more excited than a child on Christmas.
5) My fabulous mama sent an adorable dress and some great books with my BFF.
What are your five?