I would like to thank the Academy...
Okay who am I kidding, I'm not
THAT
big of a deal. I mean in the last 15 hours alone I lost two followers. I can't lie, I cried. That's not surprising though. Things to make me feel better? Two
NEW
followers, only one of which I have "met". If you haven't introduced yourself, do!! I love reading and following my readers in return! Also the fact that I won! Now onto what I WON. Well hats off to
Navy Doll
for creating and hosting this fabulous contest and also to
Rambling Military Wife
for nominating me! Yes, yes as a lot of you know, I was nominated and because of your amazing voting skills, subsequently won Best All Around Blog!
Thank you.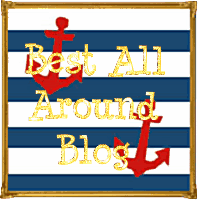 I have won a fabulous Uppercase Living decal and some great Avon skin cream. Once I get it in the mail, I'll show you guys pictures with it settled on my wall!